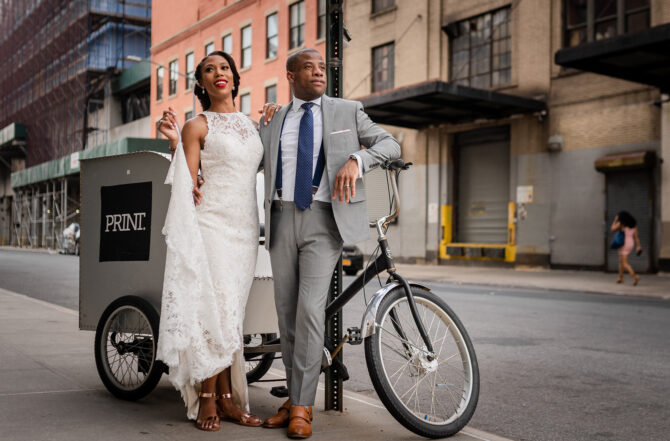 Organizing a wedding is not as easy as it may seem. The whole process is labor-intensive: you have to decide what style the event will be, create a guest list, find a venue and arrange its rental, and finally find a suitable dress for the bride.  Even in ideal conditions, organizing a wedding in NYC is not an easy task.
With the coronavirus, many weddings in New York City are in danger of being disrupted, and that's without counting the enormous amount of other hassle. As it happens, we are all in an environment that no one has ever encountered, not even our experienced New York photographers, as authorities are now asking us to avoid mass crowds as much as possible. And that begs the question: what should we do in such a situation? First of all, you should not panic and ideally stay at home. However, there are some measures that can be taken by couples from New York who cannot wait to organize a wedding even during a pandemic. 
Below is a list of tips compiled by experienced New York wedding experts, including our photographers, to help you sort out your wedding plans even in the midst of total confusion. 
Move Forward – but with caution..
Apparently, you've been planning to have a wedding for quite some time, or at least you've been thinking about it. You've done so much already: you've decided on a date and a place, you've negotiated discounts (we have special promo codes), and now there's a risk of postponing the wedding. We're well aware that postponing such a coveted event doesn't bring the most pleasant emotions, but take our advice – if you've been planning your wedding from May to April 2020, it's better to postpone it by at least a month or even a month and a half.
A wedding is probably one of the most important events in most people's lives and no one wants to cancel it, even in the face of a coronavirus pandemic. Even changing the guest list will bring its own troubles. Based on the opinions of a large number of experts, weddings that were planned for June 2020 or later do not fall into the risk zone. If you haven't finalized a date for your event and are just in the process of planning it, we highly recommend that you consider later dates. Please be sure to keep an eye out for expert opinions and don't ignore them!
Contact your wedding vendors
We get endless calls and emails from our clients who really want to have their wedding in New York City in the next few months or later in the year. They want to know the right thing to do. Our team has always tried to work as efficiently as possible under all circumstances and provide couples with the perfect wedding. In order to reduce the hassle, ArtLook has waived all costs for rescheduling the celebration and continues to work with our clients to give them the opportunity to reschedule their wedding at a later date.
It is highly recommended that you call all the vendors of any service so that you know clearly how they work under these conditions and how to proceed in the future. 
Can't wait to have your wedding? – Check out the possible alternatives. 
For couples who don't want to reschedule their celebration or have agreed to consider alternative suggestions, there are several options. We have an affordable wedding package that is perfect for couples who have decided to have an intimate ceremony or get married right away and put the celebration itself on hold.
Find the silver lining ….
Let's be honest, it's hard to find any advantages to organizing a wedding during a coronavirus. However, the period while everyone is sitting at home to use to your advantage and engage in calling all wedding service providers with whom you previously agreed to hold such an important event. It's not just the newlyweds-to-be who are sitting at home. Our specialists, including photographers as well as all observe quarantine and are happy to talk to you about possible options for services and even with a high probability will offer you a special discount.
In addition to the fact that you can guarantee yourself quality sleep, you will have a lot of time to communicate with your future husband, you will not have to rush anywhere – this will also have a very positive effect on your mental and spiritual health! Organizing a wedding takes a lot of effort, energy, and is quite a stressful process. It's very easy to get confused and get your priorities wrong, like not focusing on your life together. It doesn't matter if your wedding is in a week or a month in scenic Brooklyn, where you've already arranged everything, or if you purchase our impromptu wedding package in Central Park (which, by the way, is still accepting visitors). Either way, the main thing will happen – you'll become one with your partner and we'll be there to capture it on camera.
GALLERY